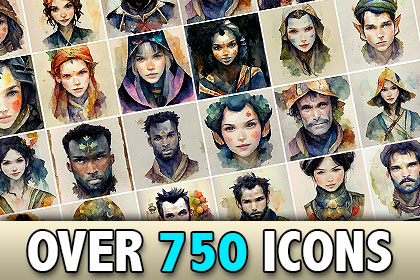 Watercolor Icons 1 - Heroes & Villains - Fantasy & RPG Themed Icons
A downloadable asset pack
Support, Questions, News & Updates
➡️ Discord | YouTube | InfinityPBR.com
--------------------------------------------------

This package contains over 700 images, focused on fantasy / RPG characters including humanoids of various character classes, roles, genders, races, and skin tones. The watercolor style is consistent throughout.

Aspect Ratio: Most images are 1:1 (square). Some may be rectangular.
Resolution: Most images are 2048 x 2048. Some may be a bit more or less.

Other packs in the Watercolor Icon Series
⭐️ Watercolor Icons 2 - Monsters & Animals | 700+ icons
⭐️ Watercolor Icons 3 - Locations & Things | 500+ icons
--------------------------------------------------
Support, Questions, News & Updates
➡️ Discord
--------------------------------------------------
Technical details
The images are delivered in a higher resolution than they will likely be used. Please decrease the resolution within Unity to obtain the optimal size for your project.
Please note: This AI-generated package has been carefully curated by a human (me!), and is intended to provide users with a large library of ready-to-use images in a specific, consistent style and theme. All images are post-processed, and many are run through Photoshop to improve them further.

In general, many images look better when displayed at half size, or high DPI. There may still be some artefacts in the images.

I make an effort to include a variety of genders, skin tones, and more. Please let me know if something is missing.
Purchase
In order to download this asset pack you must purchase it at or above the minimum price of $25 USD. You will get access to the following files:
WaterColor-HeroesAndVillains-1-100.zip
50 MB
WaterColor-HeroesAndVillains-101-200.zip
55 MB
WaterColor-HeroesAndVillains-201-300.zip
59 MB
WaterColor-HeroesAndVillains-301-400.zip
63 MB
WaterColor-HeroesAndVillains-401-500.zip
57 MB
WaterColor-HeroesAndVillains-501-600.zip
55 MB
WaterColor-HeroesAndVillains-601-700.zip
48 MB
WaterColor-HeroesAndVillains-701-800.zip
51 MB
WaterColor-HeroesAndVillains-801-805.zip